1954 Triumph Thunderbird
ABOVE: The 1954 Triumph Thunderbird and the 1954
Triumph Tiger
were "sister-bikes", in that they were very similar in appearance. In this era of Triumph Motorcycle history, the Tiger was always the "hot rod"-version, with higher compression, wilder cams and bigger carbs, be it in 500cc form as the T100, or 650cc form as the T110. The 6T Thunderbird line then, was given milder tuning and was relegated to touring and commuter duty. We don't have a photo of a 1954 Triumph Thunderbird, so we were forced to use this lovely Tiger T110.
1954 TRIUMPH THUNDERBIRD - A BIG YEAR
1954 was a big year at Triumph Motorcycles, in general. Finally the archaic rigid frame and troublesome sprung rear hub were ditched for a proper swing arm frame. Not a moment too soon, either. AMC, Royal Enfield & the BSA Gold Star were already running swing arms and Norton was about to introduce the swingarm-equipped Norton Dominator with the legendary Featherbed Frame. Triumph had some catching up to do. This would prove to be a year of change for the Triumph motorcycle line.
1954 TRIUMPH THUNDERBIRD & THE NEW TIGER T110
1954 was also the year Triumph introduced the hot new
Triumph Tiger T110.
The new top 650 model was the high-performance variant and it's development trickled down to the other models. The Tiger T110 featured higher compression, wilder cams and a bigger carb, and still ran a magneto, offering much more performance. The 1954 Triumph Thunderbird, once the flagship of the Triumph Motorcycle line & the fastest bike they produced, was now marketed as the detuned, commuter (or 'plodder') version, although the two bikes continued to be styled almost identically.
1954 TRIUMPH THUNDERBIRD - RESTYLED
The 1954 Triumph Thunderbird was extensively restyled, as were all Triumphs, with a new look that somehow retained its historical relevance with Triumphs past. They looked great! A new color, Shell Blue Sheen (pictured here on the 1954 Tiger T110) was striking on the new bikes.
1954 TRIUMPH THUNDERBIRD DETAILS
This 1954 Triumph Tiger T110 shows the new Shell Blue Sheen paint color. The '54 T110 differed from the 1954 Triumph Thunderbird in that that Tiger had a hotter engine and it retained the magneto & dynamo, whereas the T-Bird had the new-fangled alternator & coils.
1954 TRIUMPH THUNDERBIRD - SOUPED-UP 650
Performance also got a big shot in the arm for the 1954 Triumph Thunderbird. The entire Triumph 650 line got a stiffened crankshaft with increased shaft diameters, larger conrods and a new crankcase with larger 1-1/8" MS11 ball race on the timing side. Revisions to the primary cases were made to accommodate the new Lucas RM14 3-lead alternator.
1954 TRIUMPH THUNDERBIRD - NEW SWINGARM FRAME
The new swingarm frame shortened the wheelbase by 1-inch, to 55-3/4". It was a single front downtube with the swing arm pivot mounted to the saddle tube and nothing else. The vertical saddle tube flexed like a torsion bar, allowing the swing arm to move sideways. This would end up being a real problem on the higher performance Triumph Tiger T110 & much later on the first year 1959 Triumph Bonneville. Because of this tendency to weave, the frame gained the nickname "Whip Iron".
1954 TRIUMPH THUNDERBIRD - GEARING
The engine package was also made more compact by pushing the gearbox closer to the crankcase and shortening the primary cases. The primary chain was down to 70 links. Out back, the lower half of the chain guard was deleted. The gearbox cases were modified along with a new adjusting (rotating the gearbox in its mounts as the only means of adjusting the primary chain tension) and clamping system. The gear indicator pointer was also dropped.
1954 TRIUMPH THUNDERBIRD - RUNNING GEAR
Front fork springs were lengthened to 20 inches and rear shocks were 3-position slim-bodied Girlings with 110lb springs early in the year, with 125lb springs mid-year on. A centerstand appeared for the first time ever on a Triumph motorcycle.
ABOVE: Again, our pretty Tiger T110 sits in for a 1954 Triumph Thunderbird. The new swingarm rear suspension and Girling shocks are visible here. One key difference in appearance between the Tiger and the T-Bird is the primary covers. The 1954 Triumph Thunderbird had an alternator which required a larger bulge in front than this.
1954 TRIUMPH THUNDERBIRD - NEW BODYWORK
The new frame called for many new parts, including a new oil tank (claimed to be 6 pt, but was actually only 5) which also housed the battery tray, air cleaner & tool box. As always, the 6T Thunderbird came with well-valanced fenders, a new stepped two-place seat & headlight nacelle.
1954 TRIUMPH THUNDERBIRD - COOKING MODEL
With the introduction of the red-hot T110, the 6T T-Bird was no longer the top model. Starting with the 1954 Triumph Thunderbird, it became relegated to what the Brit's call a "cooking model", or basic commuter, and sidecar duty, pretty much from then on for the rest of its career. Until the arrival of the
Triumph TR6
in 1956, then the
Triumph Bonneville
in 1959, the
Tiger T110
was the 'hot rod' model, chruning out 42hp and easily breaking "the ton" (100mph). This all lead to overheating problems in the T110 that didn't affect the 6T as much, because of its lower performance. The changes that were made to the T110 to solve its problems trickled down to the rest of the line, including the 6T Thunderbird.
---
1954 Triumph Thunderbird SPECIFICATIONS
---
Engine type

Displacement

Bore & Stroke

Compression

Carburetor

Ignition

Engine output

Primary drive

Primary sprockets

Clutch

Gearbox

Ratios, overall:

1st, bottom

2nd

3rd

4th, top

Final drive

Final drive sprockets

Frame Type

Suspension, front

Suspension, rear

Brake, front

Brake, rear

Tire, front

Tire, rear

Wheelbase

Seat Height

Ground Clearance

Fuel capacity

Dry weight

Air-cooled OHV vertical twin, non-unit

649cc / 40.0 ci

71mm X 82mm / 2.79" X 3.23"

8.5:1 (US & export); 7.0:1 (UK)

1-SU Type MC2

Lucas magneto

34 bhp @ 6500 rpm

1/2" X .335" X 5/16" chain, 70 links

24T X 43T

Multi-plate, wet

4-speed constant mesh, right foot shift




11.9:1

8.25:1

5.81:1

4.88

5/8" X .400" X 3/8" chain, 101 links

18T X 46T

Brazed lug, rigid

Telescopic fork, hydraulic damping

Swing arm, 2 Girling dampers

8" SLS drum

7" SLS drum

3.25" X 19"

3.50" X 19"

55.75" / 141 cm

31" / 77.5 cm

5" / 12.7 cm

3 Imp gal (US); 4 Imp gal (UK & export)

395 lbs / 179 kg
---
MORE THUNDERBIRD PAGES:
Triumph 6T Thunderbird
.....Pre-Unit Thunderbird
.....1950
.....1951
.....1952
.....1953
.....1954
.....1955
.....1956
.....1957
.....1958
.....1959
.....1960
.....Unit-Construction Triumph Thunderbird
.....1963
MORE TRIUMPHS:
Triumph T120 & T140 Bonneville
Triumph TR6
Triumph TR7
Triumph T110 & T110 Tiger
Triumph 6T Thunderbird
Triumph 5T Speed Twin
Triumph T150 & T160 Trident
Triumph X-75 Hurricane
---
Check out these TRIUMPH BOOKS
---
TRIUMPH BONNEVILLE YEAR-BY-YEAR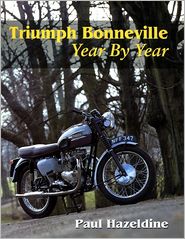 ---
TRIUMPH BONNEVILLE ESSENTIAL BUYER'S GUIDE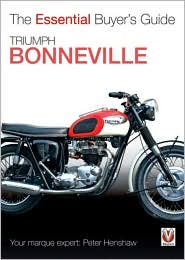 ---
COMPLETE BOOK OF CLASSIC & MODERN TRIUMPHS
---
TRIUMPH MOTORCYCLES 1956-1983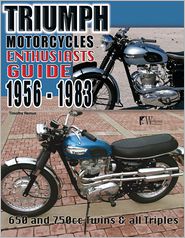 ---
FACTORY-ORIGINAL TRIUMPH TWINS
---
TRIUMPH MOTORCYCLES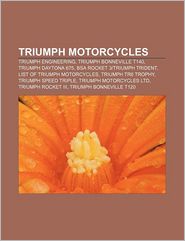 ---
TRIUMPH MOTORCYCLE RESTORATION, PRE-UNIT
---
TALES OF TRIUMPHS & THE MERIDEN FACTORY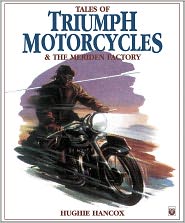 ---
TRIUMPH ILLUSTRATED SHOP MANUAL, 1935-1939
---
TRIUMPH ILLUSTRATED SHOP MANUAL, 1937-1951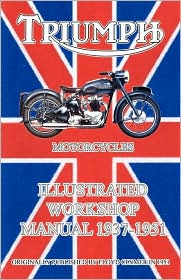 ---
TRIUMPH ILLUSTRATED SHOP MANUAL, 1945-1955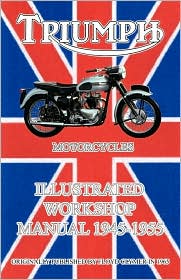 ---
---
Please visit our
MOTORCYCLE BOOK STORE
---
Take a tour of our site...
HOME PAGE
Triumph Motorcycles
.....Bonneville
.....Tiger
.....Trophy
.....TR6
.....TR7
.....Trident
.....X-75 Hurricane
.....6T Thunderbird
.....5T Speed Twin
BSA Motorcycles
.....A65
.....A10
.....A7
.....Gold Star
.....Bantam
.....Rocket 3
Norton Motorcycles
.....Commando
.....Atlas
.....Dominator
.....Manx
Matchless-AJS Motorcycles
.....G3
.....G80
AMC-Associated Motor Cycles
Royal Enfield Motorcycles
.....Interceptor
Ariel Motorcycles
.....Square Four
Vincent Motorcycles
.....Black Shadow
.....Comet
Velocette Motorcycles
.....KSS
.....LE
.....MAC
Rickman Motorcycles
Japanese Motorcycles
.....Honda
.....Kawasaki
.....Suzuki
.....Yamaha
Cafe Racers
....Triumph Cafe Racers
.....Norton Cafe Racers
.....Other Cafe Racers
Choppers & Bobbers
.....Choppers
.....Triumph Choppers
.....Rat Bikes
Classic Racing Motorcycles
Classic Motorcycle Events
.....Auctions
.....Shows
.....Rides
Classic Motorcycle Restoration
American Pickers TV show
Classic Motorcycle Shops
Classic Motorcycle Clubs
Classic Motorcycle Photo Gallery
Send us Pictures of YOUR BIKE
YOUR BIKE Pictures
HOME PAGE
.....About Us
.....Site Map
.....CONTACT US
.....Please visit our BLOG
.....Subscribe to our FREE e-zine BRIT IRON
.....BRIT IRON E-zine Back Issues
Visit our STORE
.....Motorcycle Books
.....Motorcycle Magazines
.....Motorcycle Calendars
Crazy about cars, too? Check out our sister site:
www.American-Muscle-Cars.net
---
Back to top - 1954 Triumph Thunderbird
3/14/15
---