1962 BSA A65
<b>1962 BSA A65 - NEW UNIT TWIN</B><BR>
After 15 years of great success with their pre-unit twins, the 500cc A7 & the 650cc A10, <A HREF="http://www.classic-british-motorcycles.com/bsa-motorcycles.html">BSA</a> had a real challenge ahead of them.  How do you follow up a 'home run' like the A7 & A10?  They had proven themselves to be not only strong, but reliable (BSA's hallmark) with success on the racetrack & in the showroom.  The pre-unit BSA twins were widely regarded as the epitome of the classic British vertical twin at the time.  By 1957, <A HREF="http://www.classic-british-motorcycles.com/triumph-motorcycles.html">Triumph Motorcycles</a>Triumph had converted its 350cc 3T to a unit-construction, followed by the 500cc twins in 1959.  BSA being the parent company to Triumph must have felt a pressing need to beat Triumph to the punch with its big twins.  Triumph was due to convert the 650 twins over to unit construction for model year 1963.  So BSA made sure they introduced their new unit-construction 500 & 650 twins a year ahead of them, with the 1962 BSA A65 & A50. <br>
Unfortunately, no suitable photos were available of a 1962 BSA A65. So this 1962 BSA A50, which is the 500cc version & almost identical in every other aspect, stands in. The most visual difference is that the A50 had a 7-inch front brake & the 1962 BSA A65 had an 8-incher. If you have a '62 A65,
please send pictures of your bike.
ABOVE: BSA unit-construction A65 engine. This one is out of a
'66 A65
Lightning (note the dual carbs). The engines remained essentially the same, externally from 1962 through the end in about 1972.
1962 BSA A65
THE BASIC LAYOUT
In a classic British move,
BSA Motorcycles
elected to build both their new 500cc A50 & their 650cc A65 to be basically identical in almost every way. This was done in an effort to save the costs of tooling & manufacturing different sets of components. So, aside from minor cosmetic variances, the only parts that weren't in common on the two bikes were the front brake (the A65 had an 8" SLS & the A50 had a 7") & the top end. Both models shared the same 74mm stroke, with a bore of 65.5mm for the A50 (yielding a displacement of 499cc), & 75mm for the A65 (for 654cc), slightly oversquare (very slightly, it was actually almost "square"), very unusual for a Brit bike at that time. Going Unit Construction not only cleaned up the lines of the bike, but it dropped 40 pounds off the weight. The new 1962 BSA A65 in single carb form made 38hp at 5800rpm with a compression ratio of 7.5:1. The engine followed the traditional British vertical twin layout: 360-degree crank (pistons rising & falling together), timing gears on the right, primary drive on the left & it followed BSA tradition by placing the camshaft behind the cylinders & running the pushrods up through a tunnel in the cylinder block. With the new unit design they tried so hard to 'clean it up' that they robbed it of much of its visual character. Whereas the old pre-unit BSA twins were handsome engines, the new A50s & A65s looked like bland lumps, the same on all sides. This was actually part of a clever plan BSA had hatched to be ahead of the rest of the world in adopting the "power egg-look". Why an engine should be made to look like an egg is beyond me, but this is the kind of thinking that ruined BSA in the years to follow.
1962 BSA A65 - NEW ENGINE
The conversion to Unit Construction, started with 1962 BSA A65 & it's A50 little brother, allowed
BSA
to make many other needed (and some not so welcome) changes. For instance, the rocker arms were now on shafts supported by lugs cast into the cylinder head, rather than in separate rocker boxes which were bolted to the head. It made for a much stiffer structure & because all the valve gear was contained in a cavity in the very top of the head & sealed by a one-piece aluminum cover, there were virtually no top end oil leaks. A very neat package, in this respect.
1962 BSA A65 - TEETHING PROBLEMS
In an effort to save a few cents (farthings), clever
BSA
used a copper-lead bushing instead of a main bearing on the timing side. These quickly wore out & caused lots of problems, and since the crankshaft received its oil supply from this location, the resulting lubrication problems caused engine catastrophic engine failures. It would be a few years before BSA would get it right. Today, if you have one of these early Unit BSA Twins, you can retrofit an upgrade to a roller bearing, if it hasn't been done already.
1962 BSA A65 - NEW FRAME & CYCLE GEAR
For the 1962 BSA A65, a new full double-crade frame was designed following the pattern of the previous A-Range machines. Partially welded, partially brazed lugs, it was heavily reinforced around the steering head & swing arm pivot, making for a very solid frame.
---
1962 BSA A65 SPECIFICATIONS
---
A65 Star Twin

A65 Royal Star

Engine type

Displacement

Bore & Stroke

Compression

Carburetor(s)

Ignition

Engine output

Primary drive

Clutch

Gearbox

Ratios, overall:

1st, bottom

2nd

3rd

4th, top

Final drive

Frame type

Wheelbase

Seat height

Ground clearance

Suspension, front

Suspension, rear

Brake, front

Brake, rear

Tire, front

Tire,rear

Fuel Capacity

Curb weight

Standard Roadster

Premium Roadster

Air-cooled OHV vertical twin

654cc

75mm X 74mm

9.0:1

1- Amal Monobloc, 1-1/8"

Breakers & coils, Lucas

38 bhp @ 5800 rpm

Triplex chain

Multi-plate, wet

4-speed constant-mesh, right-foot shift




11.0:1

7.18:1

5.13:1

4.35:1

Chain

Welded & brazed lug, full double cradle

54"

33"

7"

Telescopic fork, hydraulic damping

Swing arm, 2 Girling dampers

8"SLS drum

7" SLS drum

3.25" X 18" Dunlop

3.50" X 18" Dunlop

2.4 gal (US models); 4.8 gal (UK & export)

406 lbs
---
Check out these BSA BOOKS
---
BSA MOTORCYCLES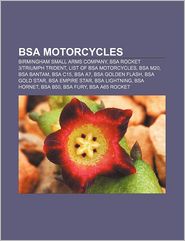 ---
BOOK OF BSA TWINS 500-650cc, 1948-62
---
BOOK OF BSA OHV SINGLES 350-500cc, 1955-67
---
BSA MOTORCYCLES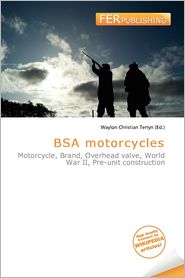 ---
---
Please visit our
MOTORCYCLE BOOK STORE
---
Take a tour of our site...
HOME PAGE
Triumph Motorcycles
.....Bonneville
.....Tiger
.....Trophy
.....TR6
.....TR7
.....Trident
.....X-75 Hurricane
.....6T Thunderbird
.....5T Speed Twin
BSA Motorcycles
.....A65
.....A10
.....A7
.....Gold Star
.....Bantam
.....Rocket 3
Norton Motorcycles
.....Commando
.....Atlas
.....Dominator
.....Manx
Matchless-AJS Motorcycles
.....G3
.....G80
AMC-Associated Motor Cycles
Royal Enfield Motorcycles
.....Interceptor
Ariel Motorcycles
.....Square Four
Vincent Motorcycles
.....Black Shadow
.....Comet
Velocette Motorcycles
.....KSS
.....LE
.....MAC
Rickman Motorcycles
Japanese Motorcycles
.....Honda
.....Kawasaki
.....Suzuki
.....Yamaha
Cafe Racers
....Triumph Cafe Racers
.....Norton Cafe Racers
.....Other Cafe Racers
Choppers & Bobbers
.....Choppers
.....Triumph Choppers
.....Rat Bikes
Classic Racing Motorcycles
Classic Motorcycle Events
.....Auctions
.....Shows
.....Rides
Classic Motorcycle Restoration
American Pickers TV show
Classic Motorcycle Shops
Classic Motorcycle Clubs
Classic Motorcycle Photo Gallery
Send us Pictures of YOUR BIKE
YOUR BIKE Pictures
HOME PAGE
.....About Us
.....Site Map
.....CONTACT US
.....Please visit our BLOG
.....Subscribe to our FREE e-zine BRIT IRON
.....BRIT IRON E-zine Back Issues
Visit our STORE
.....Motorcycle Books
.....Motorcycle Magazines
.....Motorcycle Calendars
Crazy about cars, too? Check out our sister site:
www.American-Muscle-Cars.net
---
---
Back to top - 1962 BSA A65
1/3/15
---