1969 Triumph Bonneville
COMPETITION FROM ABROAD
The 1969 Triumph Bonneville had its work cut out for it. It seemed like the Triumph Bonneville was getting faster every year, and good thing too, with new arrivals from Japan like the 1969 Honda 750/Four & the Kawasaki 500 triple. The merry men at Meriden found a few more horses hiding in the venerable vertical twin yet again. These were the Golden Years for the Triumph Bonneville and Triumph motorcycles in general, the last time they would be considered a world-class performance motorcycle. When compared to the increasingly technologically-superior, better built, and cheaper bikes from Honda, Yamaha, Kawasaki and Suzuki, the Triumph Bonneville looked outdated and outclassed. The end was near, but no one knew it yet. The Model designations were as before, T120R the road version with down pipes; T120C, the off-road/street scrambler with high pipes. The 1969 model year began with Engine #DU85904.
ENGINE
Starting with Engine #DU86965, the engine numbers were stamped over a series of embossed Triumph logos on the number plate at the base of the cylinder block, on the drive side (left side). Inside the engine, the cams were now nitrate-hardened (marked with an "N") that solved earlier wear problems. Starting with Engine #DU85904 new revised Hepolite pistons with s domed crowns & strengthened gudgeon pins (wrist pins) & from Engine #GC23016, new conrods with self-locking cap nuts were used. In yet another attempt to solve the vibration problem, weight removed from the flywheel in 1968 was put back on, while retaining the 85% balance factor, starting with Engine #NC02256.
Numerous smaller changes were made to the pushrod tubes, the oil pump and the continuing conversion over to Unified threads (American) from British Standard (Whitworth). The twin 30mm Amal Concentric carbs, now rubber-mounted, lost their separate pilot jets, relying instead on a fixed internal drilling. Main jets went from 210 to 190 and needle jets from 0.107 to 0.106. The transmission was almost completely reworked and beefed-up, in stages: new shift mechanism, extra hardening of the gears, 'shaving the gears', larger main- & layshafts. Starting with Engine #DU88383, the clutch baskets were statically balanced.
FRAME & RUNNING GEAR
The frame remained virtually unchanged for 1969, but the fork yokes (triple clamps) were made 1/4' wider to allow for wider front times. The new-for-'68 8" SLS front brake needed some work, including the rerouting of the cable.
The seat now had a quilted top of a breathable fabric & thicker padding. The "eyebrow" tank emblem was replaced with a simpler one. Colors for 1970 were Olympic Flame (a deep reddish-orange) & Silver, with the usual pattern on UK/Exports, and a new paint scheme on US bikes, where the Silver on the tank was shaped into a flash, below the tank emblem and in front of the knee pads. The steel fenders were now painted Silver with an Olympic Flame stripe down the center. Some US machines had this reversed. Gold pinstriping separated the two colors. The gold "Bonneville" transfers on the black oil tank & left side cover were now in block letters, instead of the traditional script.
---
1969 Triumph Bonneville SPECIFICATIONS
---
Bonneville T120R

Bonneville T120C

Engine type

Displacement

Bore & Stroke

Compression

Carburetors

Ignition

Engine output

Primary drive

Primary drive sprockets

Clutch

Gearbox

Ratios, overall:

1st, bottom

2nd

3rd

4th, top

Final drive

Final drive sprockets

Frame type

Suspension, front

Suspension, rear

Brake, front

Brake, rear

Tire, front

Tire, rear

Fuel Capacity

Wheelbase

Seat height

Ground clearance

Weight, unladen

Roadster, low pipes

Street Scrambler, high pipes

Air-cooled OHV vertical twin

649cc / 40.0 ci

71mm X 82mm / 2.79" X 3.23"

9.0:1

2- Amal Concentric 30mm

Battery & coil, Lucas

49 bhp @ 6200

3/8" triplex chain X 84 links

29T X 58T

Multi-plate, wet

4-speed constant-mesh, right-foot shift




11.8:1

8.17

6.76

5.84

5/8" X .400" X 3/8" chain X 106 links

19T X 47T

Brazed lug, full-cradle, single downtube

Telescopic fork, hydraulic damping

Swing arm, 2 Girling dampers

8" TLS drum, full width

7" SLS drum

3.25" X 19" Dunlop 

4.00" X 18" Dunlop

2.5 Imp gal (US) / 4 Imp gal (UK & export)

54.5" / 140.3cm

32.5" / 77.5cm

5.0" / 12.7cm

363 lbs / 165 kg
---
Check out these TRIUMPH BOOKS
---
TRIUMPH BONNEVILLE YEAR-BY-YEAR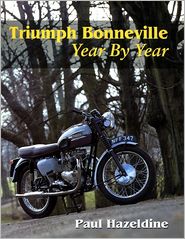 ---
TRIUMPH BONNEVILLE ESSENTIAL BUYER'S GUIDE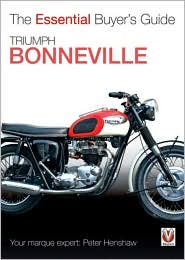 ---
COMPLETE BOOK OF CLASSIC & MODERN TRIUMPHS
---
TRIUMPH MOTORCYCLES 1956-1983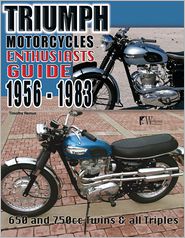 ---
FACTORY-ORIGINAL TRIUMPH TWINS
---
TRIUMPH MOTORCYCLES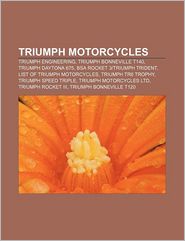 ---
TRIUMPH MOTORCYCLE RESTORATION, PRE-UNIT
---
TALES OF TRIUMPHS & THE MERIDEN FACTORY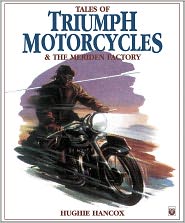 ---
TRIUMPH ILLUSTRATED SHOP MANUAL, 1935-1939
---
TRIUMPH ILLUSTRATED SHOP MANUAL, 1937-1951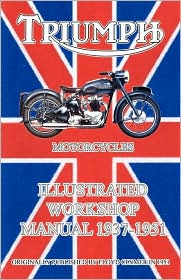 ---
TRIUMPH ILLUSTRATED SHOP MANUAL, 1945-1955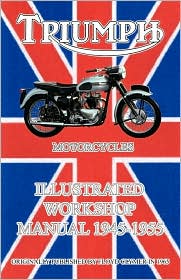 ---
Please visit our
MOTORCYCLE BOOK STORE
---
Take a tour of our site...
HOME PAGE
Triumph Motorcycles
.....Bonneville
.....Tiger
.....Trophy
.....TR6
.....TR7
.....Trident
.....X-75 Hurricane
.....6T Thunderbird
.....5T Speed Twin
BSA Motorcycles
.....A65
.....A10
.....A7
.....Gold Star
.....Bantam
.....Rocket 3
Norton Motorcycles
.....Commando
.....Atlas
.....Dominator
.....Manx
Matchless-AJS Motorcycles
.....G3
.....G80
AMC-Associated Motor Cycles
Royal Enfield Motorcycles
.....Interceptor
Ariel Motorcycles
.....Square Four
Vincent Motorcycles
.....Black Shadow
.....Comet
Velocette Motorcycles
.....KSS
.....LE
.....MAC
Rickman Motorcycles
Japanese Motorcycles
.....Honda
.....Kawasaki
.....Suzuki
.....Yamaha
Cafe Racers
....Triumph Cafe Racers
.....Norton Cafe Racers
.....Other Cafe Racers
Choppers & Bobbers
.....Choppers
.....Triumph Choppers
.....Rat Bikes
Classic Racing Motorcycles
Classic Motorcycle Events
.....Auctions
.....Shows
.....Rides
Classic Motorcycle Restoration
American Pickers TV show
Classic Motorcycle Shops
Classic Motorcycle Clubs
Classic Motorcycle Photo Gallery
Send us Pictures of YOUR BIKE
YOUR BIKE Pictures
HOME PAGE
.....About Us
.....Site Map
.....CONTACT US
.....Please visit our BLOG
.....Subscribe to our FREE e-zine BRIT IRON
.....BRIT IRON E-zine Back Issues
Visit our STORE
.....Motorcycle Books
.....Motorcycle Magazines
.....Motorcycle Calendars
Crazy about cars, too? Check out our sister site:
www.American-Muscle-Cars.net
---
---
Back to top - 1969 Triumph Bonneville
1/11/15
---