---
"BRIT IRON" takes you behind the scenes at
Classic-British-Motorcycles.com

April 2014 - Issue #31
---
IN THIS ISSUE:
I'M BACK! - It's been awhile. How ya' doin'?

HEAVY TRAFFIC - Been getting 100,000 hits a month!

NEW SISTER SITE - all about Muscle Cars!

CLUBMANS SHOW- As usual, the show was incredible!

HERE COMES THE JUDGE! - I was a Judge at the Show

PROJECT ROYAL CLONE - It's coming along. Check the latest.

CAR GUYS vs BEAN COUNTERS - My new favorite book

WIERD STUFF IS BACK - Finally!


---
I'M BACK
Hello my friends, and fellow Brit Bike nut-jobs. It's been a while...a long while. The last issue of Brit Iron, Issue #30, was on July 30, 2012. My apologies, but life sort of has a way of taking you where it chooses. I've had a lot of things taking my time and attention lately. But my heart has been with you, and these great old bikes. I'm a little rusty, so I'll just sort of rattle off some of the things that have been going on with me personally, and here at Classic-British-Motorcycles.com. Here goes:

HEAVY TRAFFIC
Despite my having been diverted by other things, Classic-British-Motorcycles.com has been cooking right along, steadily gaining in traffic. We had our biggest month ever in January with over 110,000 Page Views (hits). We're currently averaging 3,356 hits per day. That's without me working at it for about a year. It's a testament to this website's Viewers, their shared passion for old Brit bikes, and a quality of this site. What's going to happen now that I'm back at the wheel?

I was at Raber's picking up some parts for CBM's Official Project Bike, our Royal Clone (see below). While there, Mike Raber, son of founder Bob Raber, commented that he has been "seeing this site everywhere on the internet" as he searches for Classic British Motorcycles, Parts, a Info. He says that this site comes up at or near the top of most of his Brit Bike-related searches. Wow, I was proud, and encouraged at the same time. This site is almost 4 years old now, and its really starting to snowball. And I have all of you to thank for it.


---
AMERICAN-MUSCLE-CARS.NET
On top of everything else I've got going, I launched a new website in December that is very similar to Classic-British-Motorcycles.com, but instead of being about bikes, its about one of my other great passion in life, classic cars. Or more specifically, Classic American Muscle Cars. Like this site, it breaks down all the important Muscle Cars by Make, then by Model, then by Year, with eye-popping photos, history, specs, production numbers and more. Granted I've just gotten it started, and while I've made an incredible amount of progress already, there's a long way to go yet. So every car is not yet covered, and some are not covered completely. Like this site, it's a work in progress. If you love classic cars, please check it out at American-Muscle-Cars.net.


---


CLUBMANS SHOW 2014
As you must surely know by now, every year the BSA Owners Club of Northern California (BSAOCNC) hosts the biggest All-British Motorcycle Show in the West. The 2014 Clubmans All-British Weekend Show was held, for the 27th year in a row, on the last Saturday in March, the 29th this year, at the Santa Clara County Fairgrounds in San Jose CA. This all-indoor show featured well over 100 gorgeous classic Brit bikes of every ilk.

Pre-war antiques, post-war classic street and competition bikes from the 40s through the 70s, Cafe Racers, Choppers, Bobbers, Customs, even a Salt Flats Streamliner sporting 2 Triumph engines! These shows are the deal of the century at only Five Buck! And being indoors is very nice in late-March, it rained that day. There were also vendors, a swap meet, and a Bike Corral. the Go to the Page about it for more eye-popping pictures and info.

HERE COMES THE JUDGE
The Clubmans Show is made possible completely by volunteers from BSAOCNC. As a member, I help in any way I can. This year, and for the last 3 years, I was asked to help with the judging. This is a judged show, conducted on standard Concourse Rules. The bikes are divided up into classes, then judged against the others in their class. Each bike starts out with 100 total points, with 10 points in each of 10 categories (Electrical System, Fuel System, Engine, Cycle Gear and so on). Points are deducted for each flaw or blemish or non-original item to arrive at a final score. A perfect bike would have a score of 100 points. Very rare. But we did have a couple that were at 98 points, and that's almost impossible. But they were that nice. The class of bikes that my team and I judged were "Heavy Duty Street Bikes, 1971 to 1983", which essentially meant Triumph Tridents, Bonneville "Oilers", Norton Commandos and a very few BSA A65s. They're bikes I know something about, but that's not to say I didn't learn a lot. My fellow judges were extraordinary in their knowledge, and when in doubt, we called in help from one of the Owner's Clubs who had a booth at the show.


---
THE T140D: "PROJECT ROYAL CLONE"
Well, not much has happened on the Project Bike either, since our last installment. I did pick up the finished and mostly-assembled engine from Raber's, touched up the black paint, and carefully dropped it in that luscious silver powder-coated frame. I had wrapped all the frame tubes around the engine with thin foam sheet to protect it and the engine from harm. With more than a little coaxing, it finally settled into place. As I began to assemble the bits and pieces, I found that this project had reached that point where it had been apart too long, and parts were starting to disappear. I was missing the master link for the final drive chain and the primary chain adjuster foot. A trip back to Raber's took care of that. Now I just have to go work on it.


COOL NEW PAINT JOB
My good friend Joe Brown was the guy who painted my legendary Yellow Bike. Being a friend, he refused to take money payment for the amazing job he did on that bike, so I offered to help him sell some car parts he had on eBay. That worked and we were both happy. This time, when he heard I was getting ready to paint the Royal Clone, he offered to paint it for me. But again he wouldn't take my money. So again I helped him out by selling a Whipple Supercharger for him on eBay that turned out to be a major pain in the ass for me. But in the end, I got this amazing paint job that looks incredible. I would never have spent the kind of money it would take to get a paint job like this, had it not been for this deal. This is one of those jobs, all parts included that could easily have run into the thousands.


THE LOOK
My goal from the beginning was to make my '79 T140D Bonneville Special look as much like an '81 T140LE Bonneville Royal Wedding in home market trim, as above. Note the silver frame, blacked out engine and forks, mag wheels, and that gorgeous tank. It's an Italian-made tank that has been chromed then painted. The tanks are quite rare and start at around $650 in primer. Then it would be around another $450 to have it chromed. Then another $1,000 or so to have it painted. It wasn't something I was willing to do. So, I took my stock T140D teardrop tank and tried to come up with something that would replicate the look. My first thought was that 'Chrome Paint', but after much research, my buddy Joe felt those paints were all too unstable and fragile to last on a motorcycle tank. I finally settled on a brilliant silver with the matte black and gold hand-striping. Believe me, it looks even better in person. This bike is going to be gorgeous!


---
'WIERD STUFF' IS BACK!
While shopping one day in my nearly 99 Ranch Market (itself a rather odd choice of names for an Asian market), it spied these boxes, fresh off the boat from China. The warning clearly states, "DON'T DAMPPROOF". I'm sorry, what? I'm concerned both that the people who are making almost all our goods are so clueless about America, and also about the workers at the store here attempting not to dampproof it.


---


CAR GUYS vs. BEAN COUNTERS
I've just finished a book...for the third time, that I just can't seem to put down. It's called "Car Guys vs. Bean Counters; The Battle for the Soul of American Business" and it was written by Bob Lutz, the guy who turned around General Motors, after he turned around Chrysler, after he turned around Ford. Lutz is the Car Guys's Car Guy, and he's a brilliant combination of tough businessman and designer. In his book, he tells how GM had gotten into such poor shape. He was brought it as a hired gun to clean up town & get GM back on track. While there were many other factors involved, one of the key areas that he knew he could fix was in Design. GM just wasn't building highly-desirable cars anymore and he wanted to know why, especially since GM had literally driven automotive design in the 50s and 60s.

As it turns out, GM had evolved into a big bureaucracy populated by high-GPA MBA financial-types and "efficiency-experts" who sought to analyze and quantify every aspect of the car business. In doing so, they choked the life out of their cars. Things like windshield angles had to be kept more vertical to allow for better visibility of overhead traffic lights, severely limiting the Design Department's options for styling the car. In another bizarre example, it was decided that the ashtrays had to reliably open after the car had been parked in 20 degrees-below-zero for 6 hours. In order to meet this standard, the ashtrays had powerful springs in them that caused them to snap open violently the other 99.999% of the time. Lutz went in, with his swashbuckling style, and turned that system around, and with it, GM.

It's a fascinating story and a fun read, especially if you're a Car Guy like me. But it's also a top-notch book on business, management, and creativity. Like I said, I'm on my third read in a row. Having lived through GMs slow-motion train wreck as we all have, and their subsequent turn-around, this is relevant history, and it carries a valuable lesson for American business: What matters most is product/service excellence and its value to the customer. Keep it simple, don't over-analyze. Stay focused on what brings value to the equation.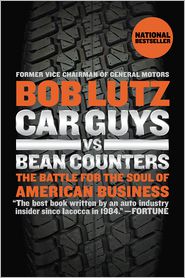 YOU CAN BUY IT HERE
If you click on the picture of the book above, you can purchase it online. I highly recommend the book. It has great value to anyone in business today, and some great lessons for America, not to mention being a real blast to read. Order it here and it helps me out a little bit. Thank you. Enjoy "Car Guys vs. Bean Counters"...I am.


---


UPCOMING EVENTS
In two weeks, on Sunday, April 26 is the Pacific Coast Dream Machines, which is a Bike Show, Car Show and Air Show all rolled into one. Not a fly-by kind of airshow. One with all kinds of awesome vintage planes on the tarmac that you can walk up to and oggle. It's at the Half Moon Bay Airport right on the beach at Half Moon Bay CA and it's an amazing show. They also have incredible displays of antique farm equipment and what they call "Gadgets". I'll be there taking pictures. Maybe I'll see you there.

The BSAOC International Rally is in Petaluma CA this year from May 2 to 9. That's in my neck of the woods. And of course, being a member of the local chapter, the BSAOCNC, I'll be going, for some of it at least. This is one event where non-BSAs are not allowed. And don't own one. But, everyone is still welcome, BSA or not, and there will be lots to do and lots to see. And if you do own a BSA, you can show your bike, and go on lots of great rides through the gorgeous Sonoma County countryside. Go to our Events Page for more details.

On Sunday, May 27 is the Quail Motorcycle Gathering at the Quail Lodge in Carmel CA. This is one high-end show, with some of the finest bikes I've ever seen anywhere on the lush green lawns of this prestigious country club. There is food, live music, and lots to see. I'll be there and hope to see you there as well.


---


A FOND FAREWELL
Well, that's all for now. That's a pretty good start for being so rusty. I plan to get this e-zine out to you every month. If you've been hanging in there all this time, thank you. If you're new to it all, hope you enjoy it, now that it's going again. We'll be adding to it, and the site, and what we'll be offering, very soon. You'll be the first to hear, that's part of the deal with your free subscription.

The weather's a-changin', time to go ridin'. Take it easy out there.


---