---
TRIUMPH BONNEVILLE
---

While the first Triumph Bonneville hit the streets in 1959, the story hardly begins there. Triumph motorcycles and the British motorcycle industry in general was enjoying a wave of success and popularity, in the marketplace, on the racetrack and on the street.


BONNEVILLE LINEAGE
The 1959 Triumph T120 Bonneville 650 wasn't born overnight. While the first of a long line of Bonnevilles, it's lineage can be traced back to the Triumph Speed Twin of 1937. This 500cc machine was the first true vertical twin, designed by Edward Turner, and spawned not just every Triumph twin from then on, but nearly every classic British motorcycle as well. Every year the public's demand for more power was met by a steady list of improvements and enhancements that squeezed ever more performance out.


MORE POWER, SCOTTY!
By 1949, Turner decided to do a 'bore-and-stroke-job' on the 500. He punched the bore from 63mm to 71mm and stretched the stroke a mere 2mm, from 80mm to 82mm. The result was a 649cc road rocket called the 1950 6T Thunderbird. Next in line, in 1953, was the Tiger T110 (implying that it would do 110 mph!). Finally, in 1956, Triumph introduced the TR6 Trophy, a stripped down, off-road/competition version. But the big news for 1956 was a brand new alloy cylinder head, the "Delta Head". Replacing the ancient iron head, the Delta offered bigger valves, better flow, better cooling and higher compression, and while it was still designed for a single carburetor, the die had been cast. Because soon, the Delta would sprout a second carb. The biggest market for Triumph motorcycles at the time was the US, and the Yanks wanted MORE POWER!! More power was on the way! The adage in those days was "Too much is almost enough".


WORLD'S FASTEST!
In 1955, Johnny Allen rode his Triumph-powered 'Texas Cee-Gar' streamliner to 193.30 mph on the Bonneville Salt Flats, setting the record for the world's fastest motorcycle. NSU took the title briefly, but then Allen took it back in 1956, blasting across the salt at 214.17 mph, a record that would stand until 1962, to be taken by another Triumph-powered machine. Edward Turner wasted no time in cashing in on it, proudly proclaiming Triumphs "The World's Fastest Motorcycles".

DELTA HEAD & THE TR6
In 1956, the new alloy 'Delta Head' replaced the old cast iron cylinder head, offering reduced weight, bigger valves for better flow and improved cooling, which allowed a higher compression ratio. But all with one carburetor, as in the wildly-successful Triumph TR6 and Triumph Trophy. Twin-carb conversions were already being played with however, and soon dual-carb heads were made available to racers and the public.

BIRTH OF THE BONNIE
By 1959, the pressure was just too great and Triumph released their seminal 1959 Triumph Bonneville 650, commemorating their salt flats victories. It was designated T120, continuing the Triumph custom of intimating at a top speed. At the time, Triumph Bonneville really was the fastest bikes you could buy, nothing else could touch them! On the racetrack on on the streets, they were tops!


POOR STYLING
But, Triumph had made a miscalculation and misread their market. The Triumph Bonneville was introduced in 1959 with a clunky nacelled headlight and fully-valanced fenders, better suited for foul-weather riding in England. They had essentially installed a twin-carb head onto a T110 Thunderbird. What America longed for was a stripped down bike, like the Triumph TR6 Trophy, but with 2 carburetors! By 1960, they got it right in the looks department. But, they also changed the frame in 1960 to the dreaded 'duplex' design that flexed and cracked all the way through the 1962 model year.

UNIT CONSTRUCTION
For 1963 Triumph did a complete redesign on the venerable 650 vertical twin. Prior to this time, the crankcase, primary case and transmission were all separate components bolted together with brackets in the frame. You literally rotated the transmission back in it's mounts to tighten the primary chain! Then you had to readjust your final drive chain again. These were called 'Non-Unit', or 'Pre-Unit Construction' engines. For 1963, Triumph put it all into one clean housing, or 'unit', which is called 'Unit Construction'. It was lighter, more compact, stronger, cleaner, and now it had a proper chain tensioner. It was an instant hit! And it allowed Triumph to pull even more power out of the Triumph Bonneville 650.



HORSEPOWER RACE IS ON
Competition really did improve the breed, in the case of Triumph motorcycles and the Triumph Bonneville in particular. Road racing in England and Europe, and desert racing, scrambles and motocross in the US stretched the 650 twin to its limits. Parts broke, new things were experimented with, as part of an ad hoc development process that pitted horsepower against vibration. The lessons learned trickled quickly down to the street models and a steady range of improvements were made nearly every year in the pursuit of the perfect balance between performance, smoothness and reliability. Not easy to get from a 1930's design, especially in the face of fast, reliable, cheap bikes pouring out of Japan. Bikes like the Honda CB450 were just as fast (didn't handle nearly as well, though), cheaper and totally reliable, at a time when a Triumph might leave you on the side of the road, scratching your head.

BONNEVILLE'S ZENITH
As the 1960's closed, the Triumph Bonneville reached its zenith with the 1969 and 1970 models, widely considered the best of all the Bonnevilles, perhaps the best of all classic Triumph motorcycles. Heck, maybe even the best Classic British Motorcycle. That's a matter of opinion, of course, but it would surely be near the top of anyone's list.

CRUSHING COMPETITION FROM ABROAD
As the Japanese got better and faster, Triumph Bonnevilles were no longer the fastest thing on the streets. A Kawasaki 500 triple would tear it's head off in a street fight! And a Honda 750 Four? Forget about it! British bikes, once the fastest bikes on the road, were beginning to look antiquated, quirky and irrelevant. By this time, Brit bikes had a reputation for leaking oil, vibrating so badly that parts would fall off, dicey electrics (Lucas, 'the Prince of Darkness'), and poor reliability.


BAD MANAGEMENT
Despite raging success throughout the 1960's, Triumph needed to do a lot of work, and spend a lot of money doing it, if they were to compete in this new, changing environment. They needed 5 speeds, electric starters and disk brakes for starters. And they had to do something about all that other stuff. By this time, BSA, who had owned Triumph since 1951, began meddling, made a series of catastrophic blunders, spurred inter-brand rivalry (BSA resented Triumph's success) and spent all the money.

OIL-IN-FRAME DEBACLE
In the face of all this, what was their answer? In 1971, Triumph & BSA came out with a common frame for their respective 650 twins, the dreaded Oil-in-the-Frame debacle of 1971. Designed by aerospace engineers who had no knowledge of motorcycles, it was the answer to the question no one was asking. Of all the things Triumph needed, the last one was a new frame! But here it was, sitting so tall in the seat that many riders couldn't touch the ground! The massive drain-pipe of a backbone that was supposed to be filled with oil could only be filled halfway because of 'foaming problems', forever plaguing these "Oilers" with an inadequate oil supply. The production line had to be shut down for weeks while the blueprints were finalized, losing valuable and much-needed production. When the new frames finally did arrive, it was found that the engines couldn't be installed, there wasn't enough room. Suffice it to say, this kind of thinking was part of the slow-motion-train-wreck that was the British Motorcycle Industry at the time.


SOME HOPE YET: 5-SPEED 750
Despite all this, Triumph continued to produce some wonderful machines. By 1973, they'd worked most of the bugs out of the new running gear. They punched it out to 750cc, shortened the con rods and the barrels by one fin to allow easier installation on the line, had a disk brake and a 5 speed transmission. Still no electric starter (it finally debuted in 1982), but it did retain those atrocious Lucas electrics.

THE BITTER END
The Bonneville soldiered on as a 750 until 1983, in a variety of forms and a few special editions. The classic Triumph Bonneville was literally the last British motorcycle produced by the old British motorcycle industry. It's a sad story really, but the good news is that Triumph is back in business (new owners, new philosophy, new bikes, new everything!) and they're building Bonnevilles again. Not quite like the classics we love and dream of, but a nice testament to a motorcycling legend!


---
Triumph Bonneville
MODEL-BY-MODEL, YEAR-BY-YEAR:
---
In an effort to keep this vast amount of information organized and easy to use, we have broken the Triumph Bonneville line down into these 3 subgroups:
---
TRIUMPH BONNEVILLE,
Pre-Unit Construction
1959 - 1962
All Triumph 650s went Unit Construction in 1963. Prior to that, they're all called 'Pre-Unit' 650s. This refers to the fact that the engine, primary case and transmission are all separate components bolted together with brackets, on the bike. This was originally the way most motorcycles were built.
---
TRIUMPH BONNEVILLE,
Unit-Construction
1963-1970
All Triumph 650s went Unit Construction in 1963. This means the engine, primary case & transmission, formerly separate components, were now contained in one common case. It was lighter, stronger, more compact & it looked better.
---
TRIUMPH BONNEVILLE,
Oil-in-Frame
1971 - 1983
The last of the Triumphs. In 1971 all 650s received a new frame which held the oil inside its backbone, rather than in a separate oil tank, called an 'Oil-Bearing Frame'. Not well liked at first, over time they developed into nice machines. Along the way, they finally got disk brakes, 5 speeds & even an electric starter.
---
Triumph Bonneville, Pre-Unit, 1959-62
.....1959 Triumph Bonneville
.....1960 Triumph Bonneville
.....1961 Triumph Bonneville
.....1962 Triumph Bonneville
Triumph Bonneville, Unit Construction, 1963-70
.....1963 Triumph Bonneville
.....1964 Triumph Bonneville
.....1965 Triumph Bonneville
.....1966 Triumph Bonneville
.....1967 Triumph Bonneville
.....1968 Triumph Bonneville
.....1969 Triumph Bonneville
.....1970 Triumph Bonneville
Triumph Bonneville, Oil-in-Frame, 1971-83
.....1971 Triumph Bonneville
.....1972 Triumph Bonneville
.....1973 Triumph Bonneville
.....1974 Triumph Bonneville
.....1975 Triumph Bonneville
.....1976 Triumph Bonneville
.....1977 Triumph Bonneville
.....1978 Triumph Bonneville
.....1979 Triumph Bonneville
.....1980 Triumph Bonneville
.....1981 Triumph Bonneville
.....1982 Triumph Bonneville
.....1983 Triumph Bonneville
.....Les Harris Bonnevilles, 1984-89
---
---
TRIUMPH MOTORCYCLE BOOKS
---
TALES OF TRIUMPH & MERIDEN
---
TRIUMPH MOTORCYCLES: TRIUMPH ENGINEERING CO.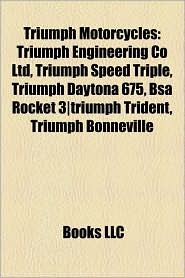 ---
TRIUMPH WORKSHOP MANUAL, 1935-1939
---
TRIUMPH WORKSHOP MANUAL, 1937-1951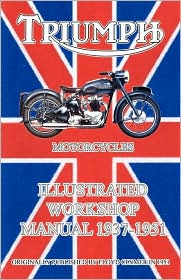 ---
TRIUMPH WORKSHOP MANUAL, 1945-1955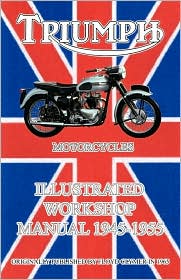 ---
TRIUMPH MOTORCYCLES: FROM SPEED TWIN TO BONNEVILLE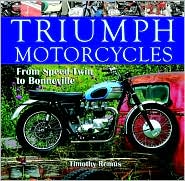 ---
TRIUMPH MOTORCYCLES - HINKLEY RENAISSANCE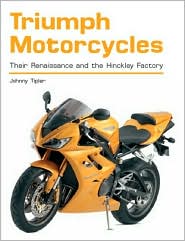 ---
SAVE THE TRIUMPH BONNEVILLE
THE INSIDE STORY OF THE MERIDEN WORKERS' CO-OP.
---
STORY OF THE TRIUMPH BONNEVILLE - MOVIE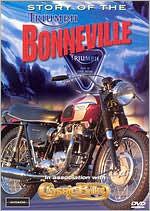 ---
TRIUMPH 650 & 750 TWINS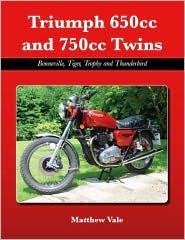 ---
ESSENTIAL BUYERS GUIDE TO TRIUMPH BONNEVILLE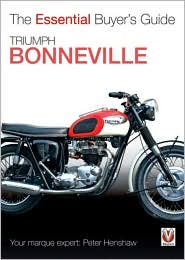 ---
TR BONNEVILLE 2001-08
---
TR BONNEVILLE, PORTRAIT OF LEGEND
---
TR BONNEVILLE: T120/T140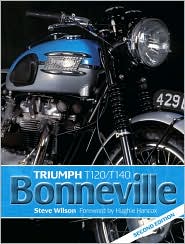 ---
TRIUMPH MC RESTORATION
---
HAYNES TR TRIPLES & FOURS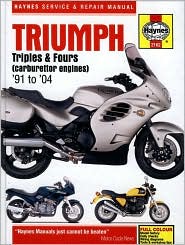 ---
TRIUMPH 21 TO DAYTONA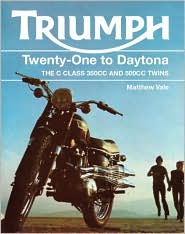 ---
TRIUMPH TIGER CUB BIBLE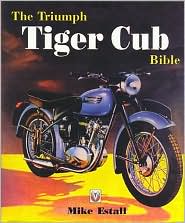 ---
---
For more Great Books, please visit our
MOTORCYCLE BOOK STORE
---
HOME PAGE
Triumph Motorcycles
BSA Motorcycles
Norton Motorcycles
Matchless-AJS Motorcycles
AMC-Associated Motor Cycles
Royal Enfield Motorcycles
Ariel Motorcycles
Vincent Motorcycles
Velocette Motorcycles
Rickman Motorcycles
Japanese Motorcycles
Cafe Racers
Choppers & Bobbers
Rat Bikes
Classic Racing Motorcycles
Classic Motorcycle Auctions
Classic Motorcycle Shows
Classic Motorcycle Rides
Classic Motorcycle Restoration
Classic Motorcycle Shops
Classic Motorcycle Clubs
Classic Motorcycle Photo Gallery
Classic Motorcycle Events Calendar
Send us Pictures of YOUR BIKE
YOUR BIKE Pictures
About Us
Site Map
CONTACT US
Brit Iron Back Issues
Visit our STORE
Subscribe to our FREE e-zine & get a FREE 11X17 Poster
BACK TO TOP - Triumph Bonneville
---
Triumph Bonneville
1/1/14